Predicting data saturation using mathematical models from ecological research
Sample size in surveys with open-ended questions relies on the principle of data saturation.
Determining the point of data saturation is complex because researchers only have information on what they have found.
This app uses mathematical modeling to describe and extrapolate the accumulation of themes during the course of a study and help researchers determine point of data saturation.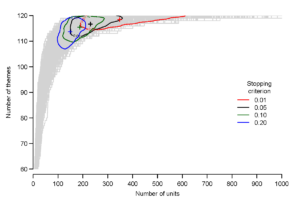 Does clinical research effort match public health needs?
A large-scale mapping of 115,000 randomized trials and 2.2 billion disability-adjusted life years.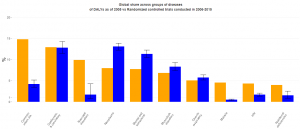 Power and sample size calculation for meta-epidemiological studies
Meta-epidemiological studies are used to compare treatment effect estimates between randomized clinical trials with and without a characteristic of interest. In this method, one identifies a number of meta-analyses that included at least one trial with and without the characteristic, concerning a variety of medical conditions and interventions. For each meta-analysis, treatment effect estimates are compared between trials with and without the characteristic (eg by estimating a ratio of odds ratios or a difference in standardized mean differences). The mean impact of the characteristic is then estimated across all meta-analyses.