ComPaRe is a scientific project to advance chronic disease research.
Participants regularly answer questionnaires concerning their illnesses, symptoms, treatments, relationships with caregivers…
In ComPaRe, the patient is at the heart of research.

INSPIRE is a major research project aimed at simplifying the collection, analysis and selection of research ideas from a large number of patients.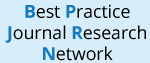 The development of an international "best practice journal research network" will promote evidence-based practice and address the need to increase the amount and quality of research by journals.