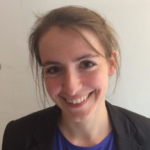 Stéphanie Sidorkiewicz, MD, PhD
I am an Associate Professor of Family Medicine at Paris Descartes University, and member of the METHODS team of CRESS-UMR1153. After obtaining my medical degree in Family Medicine in 2014, I completed a PhD in Clinical Epidemiology (supervisor: Pr Philippe Ravaud) and did a postdoctoral fellowship in CS-CORE (Cedars-Sinai Center for Outcomes Research and Education) in Los Angeles (US).
My research focuses on multi morbidity, patients with chronic conditions, medication adherence, patient reported outcomes, shared decision making
Research interests
Multi morbidity, shared decision making

Medication adherence, patient-physician communication

Patient reported outcomes, digital health
Best publications
Sidorkiewicz S, Tran VT, Cousyn C, Perrodeau E, Ravaud P. Development and validation of an instrument to assess treatment adherence for each individual drug taken by a patient. BMJ Open. 2016;6(5):e010510.

Sidorkiewicz S, Tran V-T, Cousyn C, Perrodeau E, Ravaud P. Discordance Between Drug Adherence as Reported by Patients and Drug Importance as Assessed by Physicians. The Annals of Family Medicine. 1 sept 2016;14(5):415 21.

Sidorkiewicz S, Tran V-T, Ravaud P. Acceptable medication non-adherence: A crowdsourcing study among French physicians for commonly prescribed medications. PLOS ONE. 13 déc 2018;13(12):e0209023.