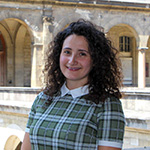 Sally Yaacoub, BS Pharm, MPH, PhD
I am a postdoctoral fellow in the METHODS team of CRESS UMR 1153. After obtaining my Bachelor of Science in Pharmacy and Master of Public Health, I completed my PhD in Public Health-Epidemiology.
My current scientific work focuses on meta-research, i.e., research on research. I have several research interests including: research methodology, and development and methodology of clinical practice guidelines.
Research interests
Development and methodology of clinical practice guidelines

Operational research in humanitarian settings

Epidemiology of antibiotic use