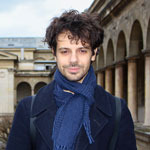 As a Ph.D. student on the METHODS team at CRESS, my current research focuses on developing robust methods for clustering time series data derived from clinical studies. Under the guidance of my advisor, Dr. François Petit, I am working to develop new approaches to identify patterns and relationships in these complex datasets.
Prior to my doctoral studies, I completed an internship at INRIA Sophia-Antipolis research, where I applied topological data analysis to an unsupervised learning project.
I hold degrees in Statistics and Machine Learning from ENSAE Paris, as well as a degree in Pure Mathematics from Sorbonne Université. My multidisciplinary background has equipped me with a unique set of skills that allows me to approach research problems from a variety of perspectives and to work collaboratively with experts in diverse fields.
ottavio.khalifa [ a t ] inserm.fr
Research interests
Topological Data Analysis