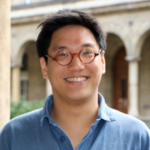 After an initial training in general medicine (Assistant professor), I realized a PhD thesis in Clinical Epidemiology, followed by a Post Doctoral Fellowship in Côte d'Ivoire (PACCI-CERMIPA center). Now, i'm working as a post-doctoral fellow in the Methods Team (INSERM- Sorbonne Paris Cité Epidemiology and Statistics Research Centre).
The focus of my research are chronic conditions, the burden of treatment and Minimally Disruptive Medicine. On a methodological level, I am interested in the development of Patient Reported Outcome Measures and in Qualitative research methods.
Research interests
Methods in qualitative research

Chronic conditions, Burden of treatment, Minimally Disruptive Medicine
Best publications
Tran, V. T., et al. (2012). "Development and description of measurement properties of an instrument to assess treatment burden among patients with multiple chronic conditions." BMC Med 10: 68.

Tran, V. T., et al. (2014). "Adaptation and validation of the Treatment Burden Questionnaire (TBQ) in English using an internet platform." BMC Med 12: 109.

Tran, V. T., et al. (2015). "Taxonomy of the burden of treatment: a multicountry Web-based qualitative study of patients with chronic conditions." BMC Med 13: 115.

Tran, V. T., et al. (2016). "Point of data saturation was assessed using resampling methods in a survey with open-ended questions." J Clin Epidemiol 80: 88-96.

Tran, V. T., et al. (2016). "Predicting data saturation in qualitative surveys with mathematical models from ecological research." J Clin Epidemiol.