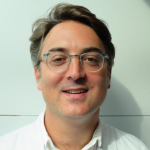 Sébastien Czernichow, MD, PhD
I am a professor of nutrition at the Paris Descartes University and a researcher at the Methods Team (INSERM- Sorbonne Paris Cité Epidemiology and Statistics Research Centre).
I am the Head of the Nutrition Department at Georges Pompidou european Hospital, Paris. This department is based on a multidisciplinary team dedicated to the management of severe obese patients. We also have a strong collaboration with the bariatric surgery department.
Research interests
Obesity, diabetes and bariatric surgery epidemiology

Evaluation of pharmacological and non-pharmacological treatments
Best publications
Thereaux J, Lesuffleur T, Czernichow S, Basdevant A, Msika S, Nocca D, Millat B, Fagot-Campagna A. To What Extent Does Posthospital Discharge Chemoprophylaxis Prevent Venous Thromboembolism After Bariatric Surgery?: Results From a Nationwide Cohort of More Than 110,000 Patients. Ann Surg 2017 [epub]

Ying A, Arima H, Czernichow S, Woodward M, Huxley R, Turnbull F, Perkovic V, Neal B. Effects of blood pressure lowering on cardiovascular risk according to baseline body-mass index: a meta-analysis of randomised trials. Lancet. 2015;385(9971):867-74.

Hinnouho GM, Czernichow S, Dugravot A, Nabi H, Brunner EJ, Kivimaki M, Singh-Manoux A. Metabolically healthy obesity and the risk of cardiovascular disease and type 2 diabetes: the Whitehall II cohort study. Eur Heart J. 2015;36(9):551-9.

Thereaux J, Veyrie N, Barsamian C, Corigliano N, Beauchet A, Poitou C, Oppert JM, Czernichow S, Bouillot JL. Similar postoperative safety between primary and revisional gastric bypass for failed gastric banding. JAMA Surg. 2014;149(8):780-6.

Woodward M, Tunstall-Pedoe H, Batty GD, Tavendale R, Hu FB, S Czernichow. The prognostic value of adipose tissue fatty acids for incident cardiovascular disease: results from 3944 subjects in the Scottish Heart Health Extended Cohort Study. Eur Heart J. 2011;32(11):1416-23.