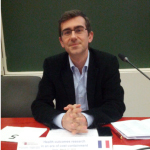 I am an Associate Professor of Biostatistics at Paris Descartes University and member of the METHODS team of the INSERM – Sorbonne Paris Cité Epidemiology and Statistics Research Centre (UMR 1153). As a biostatistician, I am involved both in methodological and statistical research, as well as in applied clinical research, including clinical trials, observational studies and prognostic studies. I am a member of the Comité d'Evaluation Ethique / Institutional Review Board of Inserm.
I am also Senior Associate Editor for Methods at Clinical Orthopaedics and Related Research, and Associate Editor for Modeling Outcomes at the Journal of Hepatology.Click edit button to change this text.
Research interests
Drug development in precision medicine and optimal treatment regimes, with a special focus in cancerYour Content Goes Here

Estimation of the treatment effect in complex study designs, including causal inference for both observational and randomized studies

Evidence mapping and complex system methods in meta-research
Best publications
Vivot A, Jacot J, Zeitoun JD, Ravaud P, Crequit P, Porcher R. Clinical benefit, price and approval characteristics of FDA-approved new drugs for treating advanced solid cancer, 2000-2015. Ann Oncol. 2017 May 1;28(5):1111-1116. doi: 10.1093/annonc/mdx053.

Trinquart L, Jacot J, Conner SC, Porcher R. Comparison of Treatment Effects Measured by the Hazard Ratio and by the Ratio of Restricted Mean Survival Times in Oncology Randomized Controlled Trials. J Clin Oncol. 2016 May 20;34(15):1813-9. doi: 10.1200/JCO.2015.64.2488.

Vivot A, Li J, Zeitoun JD, Mourah S, Crequit P, Ravaud P, Porcher R. Pharmacogenomic biomarkers as inclusion criteria in clinical trials of oncology-targeted drugs: a mapping of ClinicalTrials.gov. Genet Med. 2016 Aug;18(8):796-805. doi: 10.1038/gim.2015.165.

Rozé JC, Cambonie G, Marchand-Martin L, Gournay V, Durrmeyer X, Durox M, Storme L, Porcher R, Ancel PY; Hemodynamic EPIPAGE 2 Study Group. Association Between Early Screening for Patent Ductus Arteriosus and In-Hospital Mortality Among Extremely Preterm Infants. JAMA. 2015 Jun 23-30;313(24):2441-8. doi: 10.1001/jama.2015.6734.

Porcher R, Leyrat C, Baron G, Giraudeau B, Boutron I. Performance of principal scores to estimate the marginal compliers causal effect of an intervention. Stat
Med. 2016 Feb 28;35(5):752-67. doi: 10.1002/sim.6735.
Links