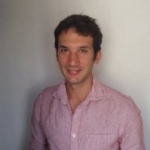 I'm a Public Health Specialist with a medical degree, and I hold one master degree in methodology and statistics in biomedical research and one in medical informatics. As such, I'm in charge of evaluating the efficiency of telemedicine for the Regional Health Authority.
Best publications
Charrier N, Zarca K, Durand-Zaleski I, Calinaud C; ARS Ile de France telemedicine group. Efficacy and cost effectiveness of telemedicine for improving
access to care in the Paris region: study protocols for eight trials. BMC Health  Serv Res. 2016 Feb 8;16:45. doi: 10.1186/s12913-016-1281-1. PubMed PMID: 26857558; PubMed Central PMCID: PMC4746880.

Zarca K, Durand-Zaleski I, Roux C, Souberbielle JC, Schott AM, Thomas T, Fardellone P, Benhamou CL. Cost-effectiveness analysis of hip fracture prevention with vitamin D supplementation: a Markov micro-simulation model applied to the French population over 65 years old without previous hip fracture. Osteoporos Int. 2014 Jun;25(6):1797-806. doi: 10.1007/s00198-014-2698-1. Epub 2014 Apr 2. PubMed PMID: 24691648.

Auvert B, Marais D, Lissouba P, Zarca K, Ramjee G, Williamson AL. High-risk human papillomavirus is associated with HIV acquisition among South African
female sex workers. Infect Dis Obstet Gynecol. 2011;2011:692012. doi: 10.1155/2011/692012. Epub 2011 Jul 3. PubMed PMID: 21804752; PubMed Central PMCID: PMC3143430.

Auvert B, Lissouba P, Cutler E, Zarca K, Puren A, Taljaard D. Association of oncogenic and nononcogenic human papillomavirus with HIV incidence. J Acquir
Immune Defic Syndr. 2010 Jan;53(1):111-6. doi: 10.1097/QAI.0b013e3181b327e7. PubMed PMID: 19779357; PubMed Central PMCID: PMC3203884.

Sobngwi-Tambekou J, Taljaard D, Lissouba P, Zarca K, Puren A, Lagarde E, Auvert B. Effect of HSV-2 serostatus on acquisition of HIV by young men: results
of a longitudinal study in Orange Farm, South Africa. J Infect Dis. 2009 Apr 1;199(7):958-64. doi: 10.1086/597208. PubMed PMID: 19220143; PubMed Central
PMCID: PMC2868899.