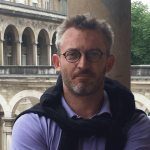 Jean-Philippe Regnaux, PT, PhD
I am an assistant professor at the French School of Public Health (EHESP).  Member of the French Cochrane center.
Research interests
Evaluation of physical activity and exercise interventions

Complex interventions in systematic reviews
Best publications
Gallois M, Davergne T, Ledinot P, Ravaud P, Regnaux JP. Dosage of preventive or therapeutic exercise interventions: review of published randomized controlled trials and survey of authors. Arch Phys Med Rehabil. 2017 Apr 29. pii:S0003-9993(17)30264-2. doi: 10.1016/j.apmr.2017.03.030. [Epub ahead of print]Review. PubMed PMID: 28465221.

Slade SC, Dionne CE, Underwood M, Buchbinder R, Beck B, Bennell K, Brosseau L,Costa L, Cramp F, Cup E, Feehan L, Ferreira M, Forbes S, Glasziou P, Habets B,Harris S, Hay-Smith J, Hillier S, Hinman R, Holland A, Hondras M, Kelly G, KentP, Lauret GJ, Long A, Maher C, Morso L, Osteras N, Peterson T, Quinlivan R, Rees K, Regnaux JP, Rietberg M, Saunders D, Skoetz N, Sogaard K, Takken T, van Tulder M, Voet N, Ward L, White C. Consensus on Exercise Reporting Template (CERT):Modified Delphi Study. Phys Ther. 2016 Oct;96(10):1514-1524. Epub 2016 May 5. PubMed PMID: 27149962.

Regnaux JP, Lefevre-Colau MM, Trinquart L, Nguyen C, Boutron I, Brosseau L, Ravaud P. High-intensity versus low-intensity physical activity or exercise in people with hip or knee osteoarthritis. Cochrane Database Syst Rev. 2015 Oct29;(10):CD010203. doi: 10.1002/14651858.CD010203.pub2. Review. PubMed PMID:26513223.

Petit Dit Dariel O, Regnaux JP. Do Magnet®-accredited hospitals show improvements in nurse and patient outcomes compared to non-Magnet hospitals: a systematic review. JBI Database System Rev Implement Rep. 2015 Jul17;13(6):168-219. doi: 10.11124/jbisrir-2015-2262. Review. PubMed PMID: 26455752.

Regnaux JP, Lefevre-Colau MM, Palazzo C, Poiraudeau S, Ravaud P, Boutron I. Exercise therapy for ankylosing spondylitis (Protocol). Cochrane Database of Systematic Reviews 2014, Issue 10. Art. No.: CD011321. DOI: 10.1002/14651858.CD011321.
Links