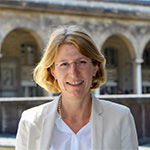 I am a professor of epidemiology at the Paris Descartes University and a researcher at the Methods Team (INSERM- Sorbonne Paris Cité Epidemiology and Statistics Research Centre).
I am director of Cochrane France, deputy director of the French EQUATOR (Enhancing the QUAlity and Transparency Of health Research) Centre and co-convenor of the Bias Methods group of the Cochrane Collaboration. I am also a member of the Methods Executive of Cochrane
I have worked on the internal and external validity of non-pharmacological trials, and led the extension of the CONSORT statement on reporting treatment trials for nonpharmacologic treatments.
Research interests
Methodological characteristics evaluation of non-pharmacological treatments

The problems of knowledge and transparency of research
Best publications
Boutron I, Altman DG, Moher D, Schulz KF, Ravaud P, CONSORT NPT Group. CONSORT Statement for Randomized Trials of Nonpharmacologic Treatments: A 2017 Update and a CONSORT Extension for Nonpharmacologic Trial Abstracts. Ann Intern Med. 2017;167(1):40-7.

Boutron I, Dechartres A, Baron G, Li J, Ravaud P. Sharing of Data From Industry-Funded Registered Clinical Trials. JAMA. 2016;315(24):2729-30.

Baudard M, Yavchitz A, Ravaud P, Perrodeau E, Boutron I. Impact of searching clinical trial registries in systematic reviews of pharmaceutical treatments: methodological systematic review and reanalysis of meta-analyses. BMJ. 2017;356:j448.

Boutron I, Altman DG, Hopewell S, Vera-Badillo F, Tannock I, Ravaud P. Impact of spin in the abstracts of articles reporting results of randomized controlled trials in the field of cancer: the SPIIN randomized controlled trial. J Clin Oncol. 2014;32(36):4120-6.

Yavchitz A, Boutron I, Bafeta A, Marroun I, Charles P, Mantz J, Ravaud P. Misrepresentation of randomized controlled trials in press releases and news coverage: a cohort study. PLoS Med. 2012;9(9):e1001308.
Links
Other
Award Louis-Daniel Beauperthuy, Académie des sciences (2014)