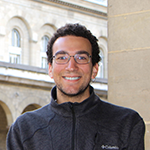 I am a researcher at the Methods Team (INSERM- Sorbonne Paris Cité Epidemiology and Statistics Research Centre).
I have an engineering degree and a Masters degree in Complex Systems from Ecole Polytechnique, Palaiseau, and a PhD degree in Public Health and Epidemiology from Université Paris Descartes.
I have worked on mapping health research using data visualization and natural language processing for extracting knowledge from large databases concerning health research.
Research interests
Health research system as a complex system

Data science: machine learning, natural language processing, data visualization

Artificial intelligence applied to clinical care
Best publications
Atal I, Trinquart L, Porcher R, Ravaud P (2015) Differential Globalization of Industry- and Non-Industry– Sponsored Clinical Trials. PLoS ONE 10(12) :e0145122. doi :10.1371/journal.pone.0145122

Atal I, Zeitoun JD, Névéol A, Ravaud P, Porcher R, Trinquart L (2016) Automatic classification of registered clinical trials towards the Global Burden of Diseases taxonomy of diseases and injuries. BMC Bioinformatics 17(1) :392. doi :10.1186/s12859-016-1247-7

Dechartres A, Trinquart L, Atal I, Moher D, Dickersin K, Boutron, I, Perrodeau E, Altman D, Ravaud P (2017) Evolution of poor reporting and inadequate methods over time in 20 920 randomised controlled trials included in Cochrane reviews : research on research study. BMJ 357 :j2490. doi :10.1136/bmj.j2490

Dechartres A, Ravaud P, Atal I, Riveros C, Boutron I (2016) Association between trial registration and treatment effect estimates : a meta-epidemiological study. BMC Medicine 14(1) :100. doi :10.1186/s12916-016-0639-x

Dechartres A, Bond EG, Scheer J, Riveros C, Atal I, Ravaud P (2016) Reporting of statistically significant results at ClinicalTrials.gov for completed superiority randomized controlled trials. BMC Medicine 14(1) :192. doi :10.1186/s12916-016-0740-1
Links