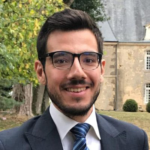 Dr Vivot is an  assistant professor (Assistant Hospitalo-Universitaire) of biostatistics and medical informatics at the Paris Descartes University and a researcher at the Methods Team where he works on methodological issues for evaluating Artificial Intelligence (AI) algorithms especially in oncology.
After obtaining his MD at the University of Franche-Comté, Dr Vivot completed a residency in public health and social medicine at the Bordeaux School of Public Health including a 6-month internship at the Harvard School of Public Health under the supervision of Dr M. Maria Glymour. In 2013,  he joined the Methods Team and did his PhD  under the supervision of Dr Raphaël Porcher, working on the methodological evaluation of predictive biomarkers in oncology (http://www.theses.fr/s177008).  He also worked on the methods to estimate the value of new anticancer agents.
Research interests
Methodological issues in the development of AI-based algorithms in medicine, especially in oncology
Best publications
Vivot A, Créquit P, Porcher R. Use of Late-Life Expectancy for Assessing the Long-Term Benefit of Immune Checkpoint Inhibitors. J Natl Cancer Inst. January 2019. doi:1093/jnci/djy211

Vo T-T, Vivot A, Porcher R. Impact of biomarker-based design strategies on the risk of false-positive findings in targeted therapy evaluation. Clin Cancer Res. January 2018:clincanres.0328.2018. doi:1158/1078-0432.CCR-18-0328

Vivot A, Jacot J, Zeitoun J-D, Ravaud P, Crequit P, Porcher R. Clinical Benefit, Price and Approval Characteristics of FDA-approved New Drugs for Treating Advanced Solid Cancer, 2000-2015. Ann Oncol. 2017;28(5):1111-1116. doi:1093/annonc/mdx053

Vivot A, Boutron I, Béraud-Chaulet G, Zeitoun J-D, Ravaud P, Porcher R. Evidence for Treatment-by-Biomarker interaction for FDA-approved Oncology Drugs with Required Pharmacogenomic Biomarker Testing. Scientific Reports. 2017;7(1):6882. doi:1038/s41598-017-07358-7

Vivot A, Power MC, Glymour MM, et al. Jump, Hop, or Skip: Modeling Practice Effects in Studies of Determinants of Cognitive Change in Older Adults. Am J Epidemiol. January 2016:kwv212.