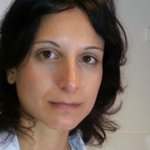 Alexandra Yannoutsos, MD, PhD
I am a vascular doctor working in the department of vascular medicine of Groupe Hospitalier Paris Saint-Joseph. My clinical expertise focuses on the management of various vascular conditions in a multidisciplinary team approach. Clinical areas of expertise include atherosclerotic peripheral artery disease, chronic limb ischemia, venous thromboembolic disease, lymphedema, microcirculatory disorders and lower limb ulcers management.
I am involved in the clinical research focusing on observational and prognostic studies in patients with atherosclerosis.
Research interests
Cardiovascular risk prediction and cardiovascular prevention at the individual level

Aortic stiffness and hypertension management

Cancer and atherosclerosis
Best publications
Yannoutsos A, Ahouah M, Dreyfuss Tubiana C, Topouchian J, Safar ME, Blacher J. Aortic stiffness improves the prediction of both diagnosis and severity of coronary artery disease. Hypertens Res. 2018;41(2):118-125.

Yannoutsos A, Bahous SA, Safar ME, Blacher J. Clinical relevance of aortic stiffness in end-stage renal disease and diabetes: Implication for hypertension management. J Hypertens. 2018. doi: 10.1097/HJH.

Yannoutsos A, Kheder-Elfekih, Halimi JM, Safar ME, Blacher J. Should blood pressure goal be individualized in hypertensive patients? Pharmacol Res. 2017;118: 53-63.

Yannoutsos A, Ahouah M, Dreyfuss Tubiana C, Topouchian J, Touboul C, Safar ME, Blacher J. Hemodynamic parameters in hypertensive diabetic patients. J Hypertens. 2016;34(6):1123-31

Yannoutsos A, Levy BI, Safar ME, Slama G, Blacher J. Pathophysiology of hypertension: interactions between macro and microvascular alterations through endothelial dysfunction. J Hypertens. 2014; 32(2):216-224