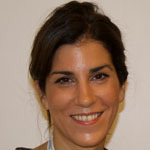 Maria Clotilde Carra, MD, PhD
Faculty of Odontology, Université Paris Cité | Rothschild Hospital, Paris, France

I am Professor of Periodontology at the Faculty of Odontology of the University Paris Cité and responsible of the Periodontal and Oral Surgery Unit of the Service of Odontology of the Rothschild Hospital of Paris, where I am the director of the EFP-accredited postgraduate program in Periodontics and Implant Dentistry. I am member of the board of the French Society of Dental Sleep Medicine (SFMDS) and the European Academy of Dental Sleep Medicine (EADSM). As a clinician, I have a hospital-based clinical practice dedicated exclusively to periodontology, implant dentistry, and dental sleep medicine. As a researcher, my activity focuses on epidemiological and clinical research projects on periodontal medicine, particularly on the relationships between periodontitis and cardiovascular diseases, sleep disorders, and quality of life.
ORCID: 0000-0002-5717-3274
Scopus Author ID: 36173652400
Loop profile: 1035283
SciProfiles: 464400
Research interests
Epidemiology of periodontal diseases

Self-report tool to assess periodontitis at the population level

Periodontitis and systemic disease

Sleep disorders and oral health
Best publications
Jaumet L, Hamdi Z, Julia C, Hercberg S, Touvier M, Bouchard P, Carra MC, Andreeva VA. Periodontitis assessed with a new screening tool and oral health-related quality of life: cross-sectional findings among general-population adults. Qual Life Res. 2023 Jan;32(1):259-272. doi: 10.1007/s11136-022-03215-x. Epub 2022 Aug 10. PMID: 35948787; PMCID: PMC9365217.
Carra MC, Rangé H, Swerts PJ, Tuand K, Vandamme K, Bouchard P. Effectiveness of implant-supported fixed partial denture in patients with history of periodontitis: A systematic review and meta-analysis. J Clin Periodontol. 2022 Jun;49 Suppl 24:208-223. doi: 10.1111/jcpe.13481. Epub 2021 Nov 14. PMID: 34775625.
Bianchi G, de'Angelis N, Gavriilidis P, Sobhani I, de'Angelis GL, Carra MC. Oral microbiota in obstructive sleep apnea patients: a systematic review. Sleep Breath. 2022 Oct 7. doi: 10.1007/s11325-022-02718-8. Epub ahead of print. PMID: 36207622.
Hamdi Z, Detzen L, Fessi S, Julia C, Hercberg S, Czernichow S, Boillot A, Touvier M, Bouchard P, Andreeva VA, Carra MC. Alcoholic beverage consumption, smoking habits, and periodontitis: A cross-sectional investigation of the NutriNet-Santé study. J Periodontol. 2021 May;92(5):727-737. doi: 10.1002/JPER.20-0192. Epub 2020 Sep 18. PMID: 32895953.
Carra MC, Fessi S, Detzen L, Darnaud C, Julia C, Hercberg S, Touvier M, Andreeva VA, Bouchard P. Self-reported periodontal health and incident hypertension: longitudinal evidence from the NutriNet-Santé e-cohort. J Hypertens. 2021 Dec 1;39(12):2422-2430. doi: 10.1097/HJH.0000000000002941. PMID: 34261955.
Carra MC, Gueguen A, Thomas F, Pannier B, Caligiuri G, Steg PG, Zins M, Bouchard P. Self-report assessment of severe periodontitis: Periodontal screening score development. J Clin Periodontol. 2018 Jul;45(7):818-831. doi: 10.1111/jcpe.12899. Epub 2018 May 16. PMID: 29611224.
Khoury S, Carra MC, Huynh N, Montplaisir J, Lavigne GJ. Sleep Bruxism-Tooth Grinding Prevalence, Characteristics and Familial Aggregation: A Large Cross-Sectional Survey and Polysomnographic Validation. Sleep. 2016 Nov 1;39(11):2049-2056. doi: 10.5665/sleep.6242. PMID: 27568807; PMCID: PMC5070759.
Carra MC, Huynh N, Fleury B, Lavigne G. Overview on Sleep Bruxism for Sleep Medicine Clinicians. Sleep Med Clin. 2015 Sep;10(3):375-84, xvi. doi: 10.1016/j.jsmc.2015.05.005. Epub 2015 Jul 8. PMID: 26329448.
Carra MC, Huynh NT, El-Khatib H, Remise C, Lavigne GJ. Sleep bruxism, snoring, and headaches in adolescents: short-term effects of a mandibular advancement appliance. Sleep Med. 2013 Jul;14(7):656-61. doi: 10.1016/j.sleep.2013.03.009. Epub 2013 May 2. PMID: 23643652.
Carra MC, Macaluso GM, Rompré PH, Huynh N, Parrino L, Terzano MG, Lavigne GJ. Clonidine has a paradoxical effect on cyclic arousal and sleep bruxism during NREM sleep. Sleep. 2010 Dec;33(12):1711-6. doi: 10.1093/sleep/33.12.1711. PMID: 21120152; PMCID: PMC2982742.