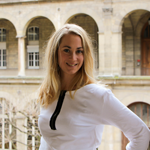 After an initial training in psychiatry, I achieved a PhD in Clinical Epidemiology proposing methodological improvement for developing Core Outcome Sets using the example of Depression.
I am now an Assistant professor in Public Health in Université de Paris/APHP, working in the METHODS team (Inserm UMR 1153).
My research focuses on mental health (mainly depression and mental pain), in the goal of developing a patient-centered, evidence-based psychiatry.
I adapt methods and concepts from social sciences and humanities to clinical epidemiology to enhance the richness and granularity of the data and thus, there clinical usefulness.
Orcid number : 0000-0002-0852-4322
Research interests
Comparative effectiveness research
Best publications
Chevance A., Ravaud P., Tomlinson A., Le Berre C., Teufer B., Touboul S., Fried E., Gartlehner G., Cipriani A., Tran V-T., Identifying outcomes for depression that matter to patients, informal caregivers, and health-care professionals: qualitative content analysis of a large international online survey, The Lancet Psychiatry, 2020; 7(8):692-702.

Chevance A, Tran V-T, Ravaud P. Controversy and Debate Series on Core Outcome Sets. Paper 1: Improving the generalizability and credibility of core outcome sets (COS) by a large and international participation of diverse stakeholders. J Clin Epidemiol. 2020; 125:206-212.e1

Chevance A., Fortel A., Jouannin, A., Denis F., Mamzer M-F., Ravaud Ph., Sidorkiewicz S., Acceptability of and willingness to take digital pills by patients, the public and healthcare professionals: qualitative content analysis of a large online survey of a representative sample, Journal of Medical Internet Research, 2021 (in press)
Grants
2020-2023 CCA Inserm-Bettencourt salary award – Fondation Bettencourt Schueller

2019            Prix Sauver la Vie-, Fondation Université de Paris

2017-2020 PhD Grant – Fondation pour la Recherche Médicale (FMD20170637634)
Awards
2020 Young talents France – L'Oréal, UNESCO

2021 Young researcher European Psychiatric Association (EPA)

2021 Young researcher Fondation des Treilles

2021 Prix solennel de thèse de la chancellerie de l'Université de Paris (Prix Halimi-médecine)

2021 Best publication Congrès Français de Psychiatrie